Contact Details
Phone: 03 5862 1144
Address:
Corner of Nelson St & Orchard St,
Numurkah VIC 3636
Mail:
PO BOX 211,
Numurkah VIC 3636
sales@ndservices.com.au

Refrigeration & Air Conditioning

Don't shiver in your own home this winter

.
When it comes to heating & cooling a small room, an entire house or commercial areas, NDServices can install a Fujitsu, Mitsubishi Electric or Mitsubishi Heavy Industry Split System to provide you with the most effective and cost efficient heating & cooling solutions.
Brought your own air conditioner/split system? No worries at all. NDServices are able to install &/or service any make or model of Split System or Air conditioner.
No job is too big or too small. Just give us a call.
If your happy with your existing Air Conditioning System, then have your air conditioner serviced to ensure that your unit continues to be reliable & efficient.
Did you know that without regular maintenance an air conditioner loses about 5% of its original efficiency for each year of operation, therefore your unit is costing you far more to run that it should.
The good news is that you can recover most of that lost efficiency through having your unit serviced and your unit is less likely to suffer a major break down through the extreme heat. The cost of the servicing the unit is therefore recovered through savings on your electricity costs.
All installations come with a 'Plumbers Industry Commission' compliance certificate.
---
Farm or Commerical Refrigeration
NDServices can also supply & install (also service) all milk vat refrigeration units through to multi room cool store facilities.
We work with you to ensure that your refrigeration meets your specific requirements & all necessary regulatory standards. We can supply & install temperature controlled & hygienic environments that are renowned for their quality and reliability.
The Refrigeration boys have been busy installing this Milk Pre-cooler. Milk now enters the vat at less than 8 degrees Celcius, reducing vat compressor running time & costs. Call us to discuss your Refrigeration needs today.
---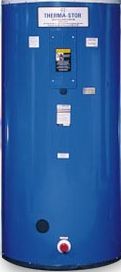 NDServices also understands the need to address rising electricity costs and reduce carbon emissions and have solutions to combat the problem.
Therma-Stor Heat Recovery Units recover the heat from your cooling system and transfers the heat to the unit, which dramatically reduces the costs of heating water. A Therma-Stor heat recovery system is a double-walled heat exchanger with water storage tank that captures lost heat from your cooling system to heat your water for free. the heated water is then stored in the system until it is needed.
How It Works - In a milk cooling system, without a Therma-Stor Heat Recovery System, the refrigerant removes the heat from the milk being cooled and that valuable heat escapes into the air. With a Therma-Stor Heat Recovery System, the refrigerant carrying the heat passes through the double-walled heat exchanger surrounding the water storage tank and heats up the water. The Therma-Stor Heat Recovery System also provides additional condensing surface which improves refrigeration efficiency because compressor efficiency goes up as condensing temperatures go down. The end result is faster cooling and prolonged compressor life.
Free Hot Water = Savings. The Therma-Stor Heat Recovery System will reduce compressor run time, and will cut down on water heating costs by as much as 65%.
Reliable - the industrial glass-lined water storage tank resists corrosion and has two replaceable anodes for extra corrosion protection.
Adapatable - This cost-efficient method of producing hot water fits any milk cooling system, large or small. The Therma-Stor is available in 80 or 120 gallon capacities.

We can also offer solar hot water options to reduce emissions and conserve energy costs. Both options can be retrofitted to existing units.

Refrigeration Authorisation Number AU21759